The Safest Place You Can Be
Every day most of us wake up, shower, dress and head out for our day. Even if it's just a quick trip for essential supplies, we have some public interaction. Of all the places you go, and things you do, a trip to Burns Family Dentistry is the safest of all of them. Even before the precautions taken during COVID-19, we spent significant time carefully sterilizing every part of your environment between each patient and each touch. There is no public place safer for you.
Our dentists are already experienced in providing patient safety from viruses and infection. We were trained experts long before COVID-19. Burns Family Dentistry does not take COVID-19 lightly, nor have we ever taken any virus, pathogen, microorganism or bacterium lightly. Our practice has always employed the most aggressive and effective sterilization procedures. We meet and exceed all standards of the Center for Disease Control, OSHA, the American Dental Association, and Virginia Board of Dentistry.
We Put Our Money Where Our Mouth Is
It's one thing to talk about it, but another thing to do it. Burns Family Dentistry has made significant investment beyond our significant past practice to ensure your safety.
The Solea Laser Replaces the Drill
Why does a dental laser make you safer? The Solea laser replaces a drill. Drills spin at high speeds and aerosolize saliva, bacteria, and viruses. While the entire room is sanitized after every patient, certainly the less material expelled out of any patient's mouth, the better it is for you, the dentist and staff. As if we needed more selling points, lasers are a far more comfortable way to have a cavity treated and often needs no numbing.
Questions about our Solea or our dental technology? Contact us today or visit our dental technology page to learn more.
ADS Extraoral Suction System
We all know the sounds, smells and sensations of getting our teeth cleaned. Our dental hygienists are experts in getting our teeth squeaky clean. For some, they must work harder than others. The tools they use to keep our teeth healthy sometimes create a fine mist and can aerosolize saliva. While all of that is sanitized between each patient, in our current environment the more we can eliminate the better. When it comes to the ADS Suction System, this device creates a subtle, nearly unnoticeable, suction that easily evacuates anything escaping your mouth. It's better for you and your hygienist.
HEPA Treatment Room Air Filtration and iWave Systems
It's a nearly undetectable gentle, soothing, "whirring" sound that may almost lull you to sleep. While the sound may be soothing, it's primary purpose is to clean the air in your room. In fact, with multiple units running it's cleaning all the air in the room in about 7 minutes. It passes all the air through a HEPA filter and UV light effectively removing 99.97% of any airborne particles, microorganisms, and other contaminants from a facility's indoor air. Unseen is the iWave-R ion generators in the HVAC system that kills viruses, bacteria, and mold in the air.
Questions about our air filtration system? Contact us today or visit our dental technology page to learn more.
Going Beyond Regular Personal Protective Equipment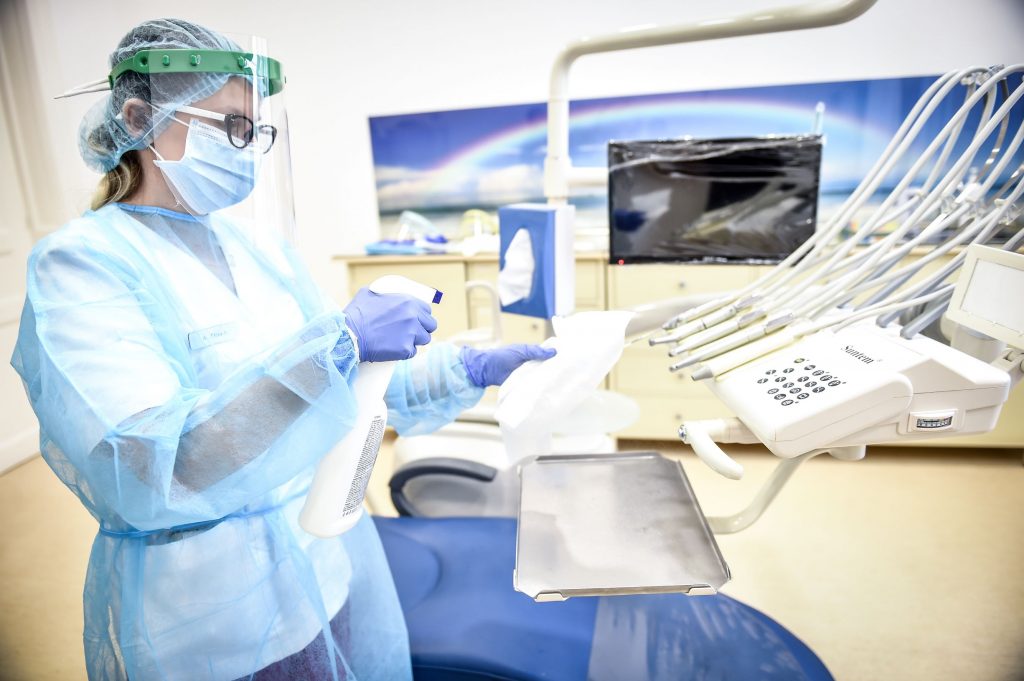 It's tough to recognize us these days!
During your visit, expect our doctors, dental hygienists, and dental assistants to be fully equipped with PPE. It's for you as well as them. The protective equipment they wear is changed between every patient. For the most part, they've always done this as a basic part of the intensive sterilization process between each patient, but recently we've added a few enhancements for everyone's safety. When you see your provider, that outfit they have on 'has your name on it' because once finished, it will be carefully changed, disposed of or sanitized.
You've been here hundreds of times and probably have no idea the extensive efforts taken after every patient to ensure your safety. It's nothing new, we have been masters of it for many years, followed with extensive investment to make sure it's the best it can be. Our room, equipment, and tool sterilization program are largely behind the scenes, but if you need more information on our sterilization procedures, we are happy to make it completely transparent with a scheduled tour.
What to Expect When You Come for Your Appointment
We realize most people are adjusting to the new rules and regulations suggested by the CDC and Governor Northam, we're still adjusting as well. Please be patient with us as we react to the latest information and comply with changing regulations. You can expect the following during your next appointment:
• A member of our staff will contact you to perform a questionnaire to ensure your visit is appropriate.
• On arrival, you will be asked many of the same questions again and your temperature checked.
• Our waiting area remains closed for now. Please come expecting to wait in your car until we are ready to escort you directly to your chair. Rest assured, everything in that room has been cleaned "just for you". Your provider's protective gown is 'just for you'.
• Once your appointment is complete, we will get you on your way as quickly as we can.