Finding a tooth replacement option for you:
Tooth loss can be devastating to self-confidence and every day oral function. At Burn's Family Dental, your smile is important to us. We go above and beyond to give you back your smile after tooth loss. You might be questioning which tooth replacement option is best for you? During your consultation, we'll give you all the options for tooth replacement and walk you through the pros and cons of each option, depending on your oral needs. We'll restore and balance your teeth's basic functions so you can continue smiling without interruption. No matter how you lose a tooth, we want to restore your oral health.
---
Implants: Single Teeth or Denture Stabilization
Single tooth dental implants replace missing teeth from the roots. They are a permanent solution matched to your natural teeth. Other less permanent solutions to tooth replacement such as partial dentures may become loose over time, causing discomfort, difficulty with speech, or issues eating. Implants allow you to continue with your normal life, without having to make huge adjustments to the way you speak, chew, and smile. They are the most durable option and can improve your confidence, giving you back your smile. 
How It Works:
We start by taking a CBCT x-ray of your jaws to identify nerves and other important anatomical structures. We may also take a digital impression of your teeth to aid in custom treatment planning. During the consultation we will visually discuss the procedure, including any adjunctive treatments needed for a successful outcome. After the consultation, you'll schedule your procedure which may take 30 minutes to an hour. We first place the implant in your jaw and then allow several months for the bone to grow on to and integrate with the implant. After healing we'll bring you back to attach the post, or abutment, to the implant. We'll then create a custom crown to place on the top of the implant post, for a full, natural-looking tooth. If you have any questions about this procedure, contact us today!
Bridges
Dental bridges are placed between one of more missing teeth to stop the missing space from manipulating your teeth's alignment, speech, chowing, and so on. Bridges use your existing teeth for implants for support. Bridges will also keep your natural face shape, as missing teeth can lead to overbites, underbites, warps or dents in faces, facial collapse, and other changes in facial structure.
Sometimes it is necessary to reinforce your bridge with a post inserted into the root, especially for teeth that have had root canal treatment. Some offices will use a stock post or, even worse, a screw-in post. These can stress the tooth leading to root fracture and also require separate buildup material which can breakdown over time. We offer cast posts that are made from a custom imprint of your tooth. The result is a custom post and buildup that fit passively into the tooth for maximum strength and quality.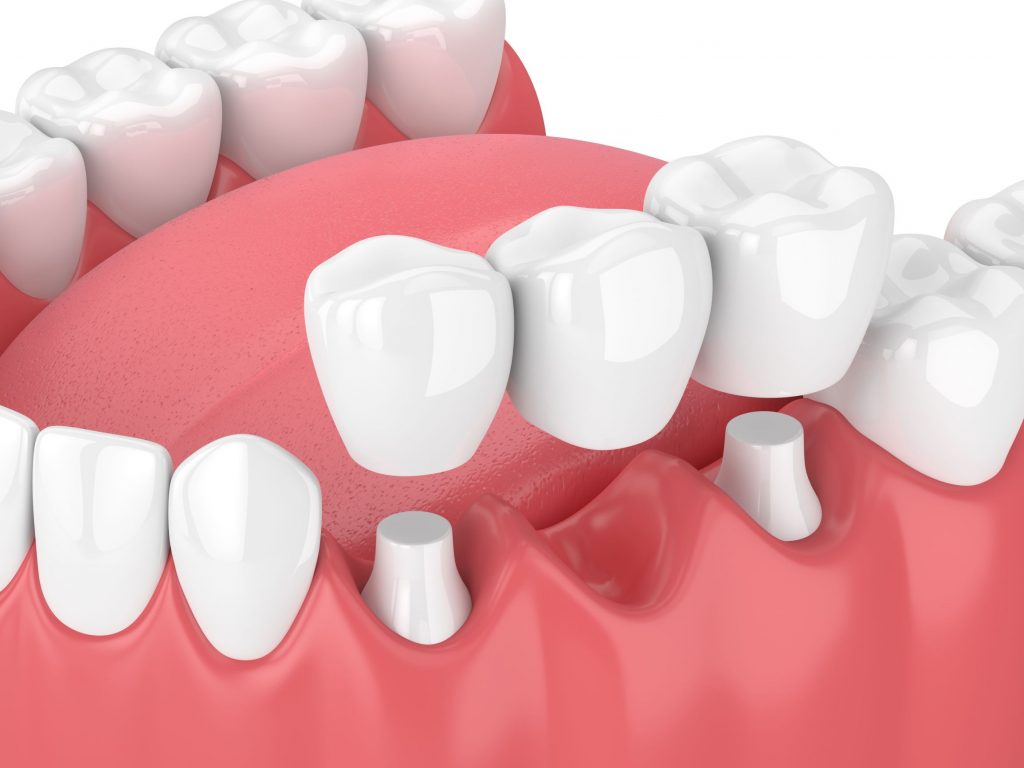 How It Works:
Bridges are custom made, by taking an impression of your mouth creating them to match your natural tooth color. We'll do digital impressions and design and mill your temporary lab fabricated bridges using our CEREC cad/cam technology. That means no impression, no temporary and no follow-up appointment! Just your custom made, beautiful bridge finished in just about an hour!
Over Dentures
Full Dentures:
A full denture or fixed hybrid denture is an implant-retained replacement for missing teeth and surrounding tissues. Dentures are made to resemble your natural teeth so there should be no noticeable change to your appearance. In fact, dentures may even improve your smile! A full denture is used to restore your smile and mouth function if all your teeth have been lost or need removal. If your denture was placed at the time of your extractions (immediate dentures) then your denture may loosen over time as the tissue underneath heals. We recommend an evaluation for a possible reline after 6 months.
While other dental offices do not remove excess bone (alveoplasty) when they remove your teeth, resulting in sharp areas under your denture causing excruciating pain; at our office, we do the alveoplasty surgery and fit your dentures ourselves. We use only the highest quality materials in your denture. Many times we can have a new denture placed in just over a week!
Partial Dentures:
A removable partial denture is a device used when one or more natural teeth still remain in the upper or lower jaw. They usually consist of replacement teeth attached to a gum-colored acrylic and metal base which is held in place in the mouth using clasps on the remaining teeth. We also offer partial dentures that are metal-free using Flexite or other materials. These are lightweight, natural-looking, thin and practically unbreakable. Both types have their pros and cons, so ask us which one is right for you.
New dentures and partials may feel awkward or loose for the first few weeks until the muscles of your cheek and tongue learn to keep them in place and you are comfortable eating and speaking. Although this may require some practice you will adjust and enjoy the benefits a full mouth of teeth can provide.