Leaders in Dental Technology
Dr. Preston has been a leader in new dental technology, even working as one of the first dentists in the country to use Invisalign. That's why in order to provide our patients with nothing but the best, our office uses state-of-the-art technologies in all our procedures. These new technologies allow us to treat dental cases with extreme precision, detect dental concerns at early stages, and provide stunning and customized restorations. When you visit our office you can be confident that you are receiving the finest and most advanced dental care.
We are proud to offer the following advanced technology services:
---
Digital X-Rays
X-rays are a focused beam of x-ray particles passed through bone which produce an image on special film, showing the structure through which it passed. This provides the familiar black and white images doctors and dentists use to diagnose problems and diseases. Our x-rays are taken with the latest digital technology requiring significantly less radiation and making images instantly available to us. Best of all, it's green, with no harsh developing chemicals to dispose of! You'll get to view your x-ray on a big screen TV.
How It Works:
In our office, we use digital radiography which allows us to take x-rays using up to 90% less radiation than conventional film x-rays. Using this technology, we are able to take an x-ray of your mouth by using a small sensor that records the image of your teeth and sends it to a computer. The result is a highly detailed image of your mouth that can easily be enhanced to better diagnose dental concerns and determine the very best treatment for each case.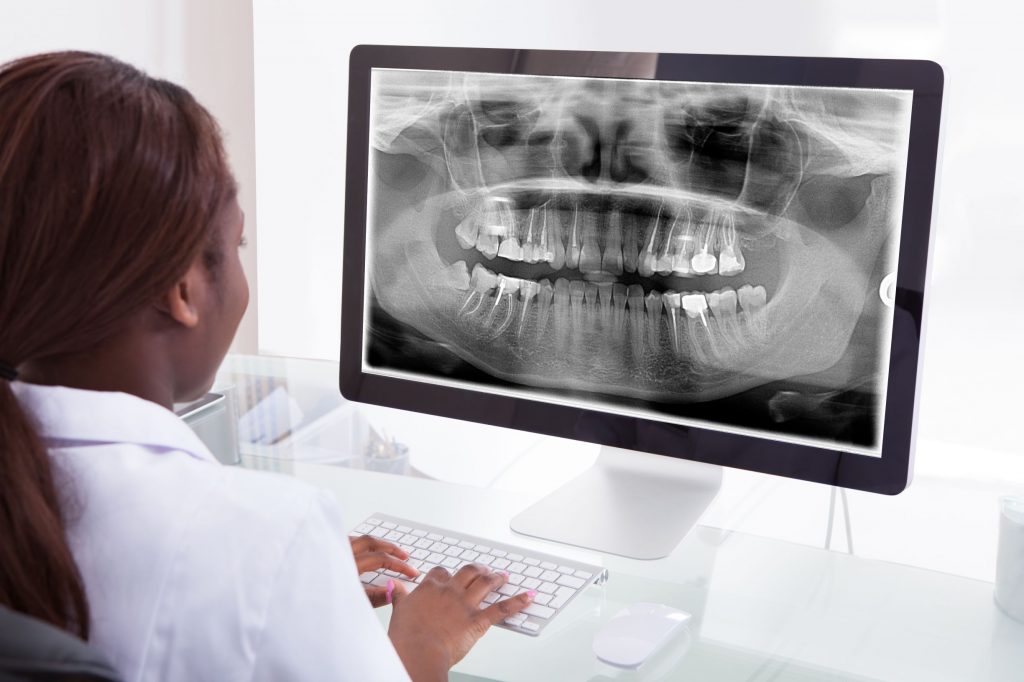 ---
Same Day crowns with CEREC Primescan
A Digital workflow means precise, highly customized crowns with increased accuracy and comfort.
Gone are the days of trays with goop that makes us all gag. We use the latest digital impression scanner to make a 3D digital impression of your mouth within minutes. We then design and create a new permanent crown for your tooth right in front of you. The CEREC Mill then produces the crown inhouse allowing us to provide faster, more accurate, and safer service to our patients. This completely eliminates the need for multiple appointments over a several weeks period.
The process can create all-ceramic dental crowns, inlays, onlays or veneers using a variety of technologies including 3D imaging and computer-aided design and manufacturing known as CAD/CAM (see below). Using an intra-oral camera, a scan is taken of the tooth and the picture is loaded onto the computer.
How It Works:
Using CEREC CAD/CAM technology from Sirona, we are able to transform the image into a three-dimensional model and design your restoration in front of you on the computer. This valuable program then allows me to easily calculate the appropriate size and shape, leaving any healthy tooth structure, and create a near-perfect restoration that fits like a puzzle piece. When the design is ready, a milling machine creates the restoration using a high-speed diamond bur and calculated precision. The restoration is bonded to the tooth, adjusted and polished. The result is a beautiful, custom-designed and produced restoration, made entirely to fit your mouth. CEREC CAD/CAM technology has been around for over 30 years and has now become the gold standard for the best in dental restorations. Today's materials and bonding are incredibly strong and durable with beautiful results that can last a lifetime!
3D X-rays with Cone Beam Technology
The ORTHOPHOS XG 3D system by Sirona is a CBCT machine. This means that it can produce 3D x-ray images like a CT machine at the hospital, only this one is a dental version and we have one inhouse. 3D CT images are critical for planning advanced implant cases and are now the standard of care. We can do 3D scans of the jaw or of just several teeth to provide improved diagnostics, surgical planning, and safety. We can integrate the 3D x-ray model with our CEREC Primescan digital scans for implant planning and the creation of custom surgical guides, which allow for precise implant placement. Utilizing both systems together increases safety and the likelihood of a great result!
---
Solea Laser Dental Drill
The latest means of treating dental decay does not require an old fashion drill. Lasers are used for both hard and soft tissues and reduce discomfort and minimize bleeding and swelling for faster recovery and higher quality care. This tool allows us to provide you with little or no anesthesia during a filling. It also dramatically reduces aerosols (about 70% and more) and is extremely clean, vaporizing decay at 1200 degrees celsius.
Soft tissue lasers are used to safely remove soft tissue, such as excess gum tissue after braces are completed. The soft tissue laser can also be employed to aid in restoring caries below the gum without having to surgically lay a flap. We use the soft tissue laser to aid in restorative procedures, crowns and CEREC restorations as well as for surgical procedures like frenectomies and some biopsies. The soft tissue laser enables the dentist to treat our patients with extreme accuracy and eliminates the need for most stitches.
---
Computerized Shade Matching
Our office uses computerized shade matching with VITA Easyshade to make restorations that perfectly match the color of your natural teeth. Old methods of shade matching can be inaccurate and inconsistent. Our shade matching system is a small hand-held device that captures tooth hue, value and chroma to create precise color matches. With this technology, you can be confident that your restorations will beautifully match your natural teeth.
---
High Volume HEPA Filters
We take our patient's safety very seriously. Each treatment room is equipped with high-quality HEPA filters that change out the air in each room in minutes. This, along with our aggressive sterilization program and i-Wave-R filtration of our HVAC system ensures our patients that coming to our office is one of the safest and cleanest places they can be.